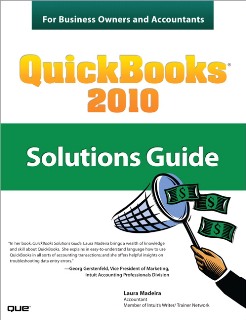 QuickBooks 2010 Solutions Guide for Business Owners and Accountants contains a wealth of QuickBooks information useful to both the business owner and the accountant who services such businesses. To make finding the right QuickBooks information easier, the book is organized into chapters specific to each accounting module in QuickBooks.
Buy It Now!
The author has worked many years with businesses that use QuickBooks to manage their financials and knows that every company has its own unique needs, yet all share one common goal—to more accurately track how the business is performing financially. The book has recently been featured in
Accounting Technology Magazine
and
Big Ideas for Small Business Newsletter
.
The goal of this book is to provide easy-to-read and easy-to-follow QuickBooks "consulting" advice that business owners, bookkeepers, or accountants can use. After reading the chapters in this book, business owners and accountants will be able to efficiently troubleshoot a QuickBooks data file and make needed corrections, so they can accurately report how the business is performing financially.
This book helps you
Quickly set up accurate charts of accounts in QuickBooks – or improve existing ones
Use QuickBooks reports to understand the most important trends in your business
Correct data errors in any balance sheet account, from A/R and A/P to taxes and inventory in QuickBooks
How to use the New for 2010! Client Data Review feature in QuickBooks for accountants.
Properly review your QuickBooks payroll data and avoid expensive mistakes
Efficiently share QuickBooks business data with your accountant
Troubleshoot beginning balance differences, reconciliation errors, and many other problems
Learn to use the Intuit Statement Writer, New for QuickBooks 2010!
Read a Review from AccountingWeb: Laura Madeira's book, "QuickBooks 2010 Solutions Guide," is a must read for all CPAs!"
Read an Excerpt: Chapter 15: Sharing Data with your Accountant or Your Client
Chapter 17: Client Data Review
Laura Madeira graduated from Florida Atlantic University with a major in accounting and is an Intuit Premier Reseller and charter member of the Intuit Trainer/Writer Network. As a member of this select group, she has provided QuickBooks training to thousands of accountants and consultants nationwide.
She also is a guest QuickBooks instructor for Intuit at many trade shows throughout the year, and she writes published QuickBooks technical documentation and presentations for Intuit.
Laura owns a software sales and training services firm that has for more than 25 years helped a large variety of businesses manage their financials using QuickBooks software. In fact, she has been training users on QuickBooks since the very first version was released many years ago.